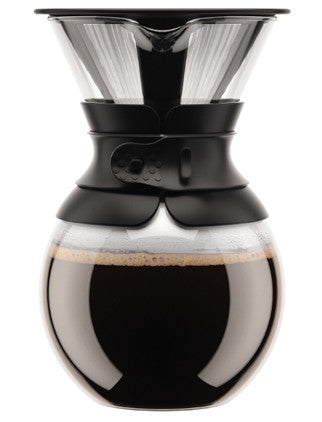 Sold Out
Bodum Pour Over Coffee Maker - Black
$ 29.99
This product is unavailable
The Bodum Pour Over Coffee Maker is one of the newest products from Bodum, and we love it! We are a huge fan of pour over coffee and Bodum has combined their decades of coffee brewing experience in their Pour Over Coffee Maker. They are breaking the mold with its use of a reusable, stainless steel mesh filter, something they know a thing or two about from their award winning French Press'. Most pour over coffee makers use paper or cloth filters, which produce a great cup, but adds to the lifetime cost.
The Bodum Pour Over is made of high quality Borosilicate glass and mouth blown for a seamless construction. The removable rubber collar is functional and fashionable, easily removed for cleaning.
The coffee maker is dishwasher safe.
CA Residents:
Click Here
for Proposition 65 Notice
California Residents:
Click Here
for Proposition 65 Notice